Many cultures have some sort of harvest festival or day of giving thanks: Germans have Erntedankfest, Koreans have Chuseok, and Americans have Thanksgiving. In India, too, there is a special day each year for celebrating the harvest and hoping for future blessings: the Lohri festival.
This holiday is especially popular in the Indian Punjab region, where sugarcane and other crops are harvested early in the year. In this article, you'll learn all about why the Punjabi celebrate Lohri, what traditions look like today, and more.
Let's get started!
1. What is Lohri?
Lohri is a harvest festival celebrating the harvest of Rabi crops.
The Lohri festival is celebrated each year on or around January 13 in पंजाब (panjaab), or "Punjab." People in some other regions of India and Pakistan celebrate this holiday as well.
The meaning of Lohri is twofold: On the one hand, it celebrates the winter solstice and the arrival of longer, warmer days. On the other, it also celebrates the annual January harvest of गन्ने (ganne), or "sugarcane," and other wintertime produce.
Historical Significance of Lohri
Traditionally, Lohri is considered a harvest festival and is perceived as a time to ask the gods for blessings and abundance. There are a few theories about where the name 'Lohri' originated:
It could be a shortened version of the combined words til and rorhi (tilohri -> lohri). These words mean "sesame seed" and "gur," respectively.
Another theory is that the name is a shortened version of 'Loi,' which was the name of a saint's wife.
There is still a third theory that suggests the name comes from 'loh,' which is a word referring to warmth and light.
This holiday is often associated with religious traditions of the past, including remembrance of the sun god Surya and the fire god Agni. In some circles, there is also a popular folk tale about a man named Dulla Bhatti who spent much of his life rescuing young girls from being sold into slavery.
2. Lohri Celebrations and Traditions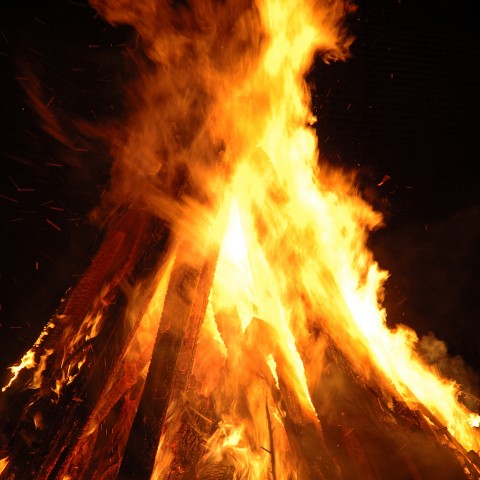 The bonfire is the focal point of Lohri celebrations.
While this holiday is mainly celebrated in Punjab, there are other regions in both India and Pakistan that observe the holiday. Exact traditions vary from one region to another.
The Lohri celebration in Punjab is met with much enthusiasm, and holiday preparation actually begins several days before. During this time, children work together to gather firewood that will be used for the traditional pyre and उत्सावाग्नि (utsavaagni), or "bonfire." They also participate in a fun tradition called Lohri Booty, in which groups of children go from home to home singing songs in order to receive some kind of sweet treat or even money.
On the night of Lohri, there is a large bonfire that serves as the focal point of the celebrations. People gather around the fire wearing bright and colorful clothing, and together they pray, sing, dance, and indulge in special Lohri snacks made from the harvested sugarcane and other types of रब्बी की फसल (rabbi ki fasal), or "Rabi crop."
While music plays—either from a traditional instrument called ढोल (dhol) or from an electronic device—people take revolutions around the bonfire and dance. Popular songs include those about the good deeds of Dulla Bhatti. There are two types of dances: Bhangra which is performed by men and गिद्धा (giddha) which is performed by women. Both dances are known for their high energy and spirit.
A pyre is burned in the bonfire, sometimes featuring an idol of the Lohri goddess, and people throw food into the fire. Burning the food like this is seen as an offering to the fire god, as well as a way to 'burn' the old year and prepare for the new one.
3. The Many Foods of Lohri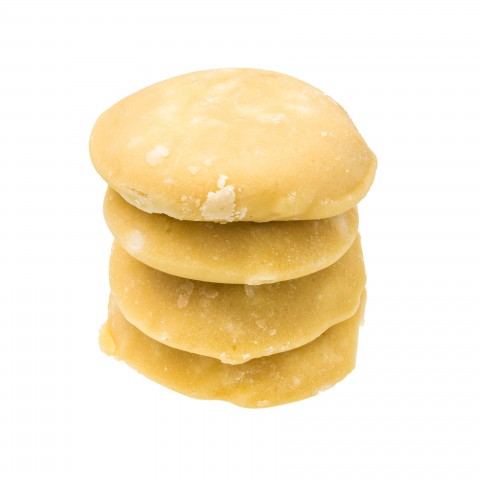 Jaggery is one of the most popular Indian foods, especially for holidays.
Because Lohri is a harvest festival, food is one of its central elements. The people of Punjab prepare a variety of seasonal meals and other treats using ingredients from the harvest, including the sugarcane. Some popular harvest items during this time include मूँगफली (moongfalee), or "peanut," and गुड (gud), or "jaggery."
Traditional Punjabi dishes include Sarson ka saag and Makke ki roti. The first is a dish consisting of mustard greens and spices, and the latter is an unleavened, cornmeal-based bread. Very often, Sarson ka saag, Makke ki roti, and jaggery are served together to make a complete, delicious holiday meal!
→ To learn more about popular Indian foods and eating practices, you can visit our lesson on the Top 5 Indian Dishes.
4. Must-Know Vocabulary for the Lohri Festival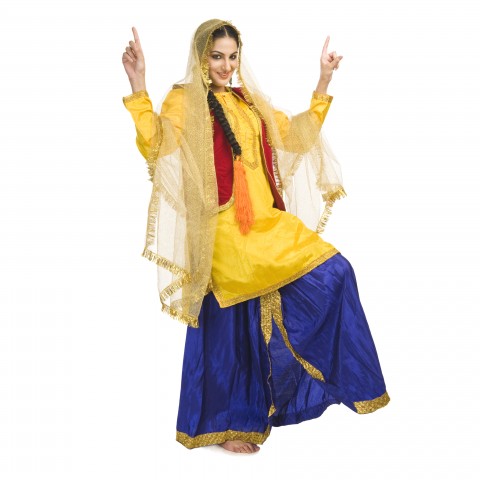 On Lohri, women perform an upbeat dance called Giddha.
Now let's review some of the words from this article, plus a few more!
मूँगफली (moongfalee) – "peanut" [noun]
पंजाब (panjaab) – "Punjab" [noun]
उत्सावाग्नि (utsavaagni) – "bonfire" [noun]
गन्ने (ganne) – "sugarcane" [noun]
धनु राशि (dhanu rashi) – "Sagittarius" [proper noun]
तिल (til) – "sesame seed" [noun]
गुड (gud) – "jaggery" [noun]
सरसों का साग (sarson ka saag) – "Sarson ka saag" [proper noun]
मक्‍के की रोटी (makke ki roti) – "Makke ki roti" [proper noun]
ढोल (dhol) – "Dhol" [proper noun]
गिद्धा (giddha) – "Giddha" [proper noun]
रब्बी की फसल (rabbi ki fasal) – "Rabi crop" [proper noun]
Remember that you can find each of these words along with an audio recording of their pronunciation on our Lohri vocabulary list!
Final Thoughts
Lohri plays a significant role in Punjabi society and India as a whole. In this article, you learned why Lohri is celebrated in Punjab, what modern-day traditions look like, and more—but your studies aren't over yet!
HindiPod101 provides tons of free vocabulary lists, useful learning resources, insightful blog posts like this one, and audio and video lessons for learners at every level. If you're serious about upping your Hindi game and becoming familiar with Indian culture, then make sure to create your free lifetime account today (or upgrade your existing account for access to even more features!).
To continue learning about Indian culture and holidays, you can read our previous blog posts:
This only scratches the surface of what you can expect from HindiPod101, so we hope to see you around.
Happy Lohri from the HindiPod101.com team!